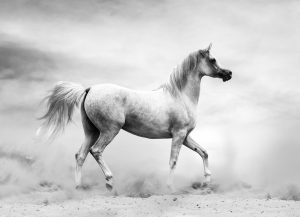 Court of Arbitration for Sport clears Shaikh Abdul Aziz Bin Faisal Al Qasimi from all Allegations.
United Arab Emirates endurance competitor Shaikh Abdul Aziz Bin Faisal Al Qasimi was exonerated on appeal by The Court of Arbitration for Sport (CAS) after the accusations of supposed Anti-Doping Rule Violations and Violations related to "Horse Abuse" by the Fédération Equestre Internationale (FEI) Tribunal proved to be unsubstantiated.
Unprecedented sanctions were originally imposed on Shaikh Abdul Aziz by the FEI Tribunal in June 2020, consisting of a 20-year suspension, a fine of CHF 17,500 and a contribution of CHF 15,000 towards the legal costs of the FEI. In their ruling, CAS stated that the FEI could not establish the charges of administration or use of a prohibited substance and horse abuse.
The FEI Tribunal had accused Shaikh Abdul Aziz of an Anti-Doping Rule Violation and of so-called "Horse Abuse" in relation to the horse Castlebar Contraband, who was ridden by Shaikh Abdul Aziz at the CE1* Event in Fontainebleau (FRA) on 15 October 2016, and who tragically had to be euthanized following a fracture to his cannon bone. Therefore, Shaikh Abdul Aziz lodged an appeal against this decision to CAS in Lausanne, Switzerland. He was supported by a specialist legal team, consisting of the Co-Managing Partner Mr. Ayham Othman of the law firm Clout, based in Jordan, Turkey and the UAE, and of the Swiss sports arbitration specialists Dr. Jan Kleiner and Lukas Stocker, both of Bär & Karrer, Switzerland.
After thorough review, CAS fully granted the appeal and annulled the decision of the FEI Tribunal in its entirety. As such, Shaikh Abdul Aziz is cleared from all allegations of wrongdoing. The entire suspension has been annulled and all disqualified results, prizes, points or earnings have been reinstated.
We at Clout are honored and proud that we were part of this memorable legal battle. We defended our client and cleared him from all allegations, which its sanctions were described as the strongest in the history of the FEI.