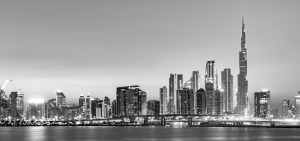 Dubai – On January the 1st 2022, Basma Alaydi Advocates & Legal Consultants joined the Clout family, increasing the depth and experience of legal talent available to international businesses and non-profit organizations. These two successful organizations are partnering to offer a broad range of legal services for clients seeking to expand into different markets across the MENA region.
Speaking on behalf of Alaydi Mrs. Basma said "We are delighted to have formalized our cooperation with Clout. We look forward to supporting each other and working together to support our shared client base".
"From the outset our goal has been to be "Legally Different" said Clout's Managing Partner of Dubai office Mr. Ayham A. Othman. Further, "By bringing together the market's best attorneys and up-and-coming lawyers under one roof, through our 5 offices across 3 countries, we can offer our clients the legal umbrella to grow and expand across the Middle East".
It's worth noting that Alaydi law firm was founded in 1987 by Mr Salim Alaydi the late father of Mrs Basma, he was one of the first judges in the UAE, who also served as the legal counsel to His Highness Sheikh Dr. Sultan Bin Muhammad Al Qassimi.